Pushing workers off the cliff
PLUS: Building a new movement for women's rights
January 13, 2013
Having trouble playing the audio? Download the audio file here.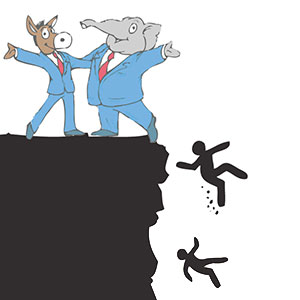 Brutal rape cases in New Delhi, India and Steubenville, Ohio have made international headlines and drawn thousands to protest violence against women. Nathalie Hrizi of Women Organized to Resist and Defend talks about the incidents, feminism and building an new, militant movement for women's rights.
ALSO: The fiscal cliff settlement has paved the way for a Congressional "battle" where Democrats and Republicans will once again join forces in March to make workers pay for the economic crisis with deep cuts to many basic services, including Medicaid, Medicare and financial aid for college students. Student organizer Walter Smolarek discusses the recent deal, the stakes for workers in the coming round of attacks and what we must do to fight back.
Questions? Comments? Let us know your thoughts!
---
Subscribe to our podcast – it's free!
Just click above to subscribe for free using your favorite podcatcher! You'll receive new episodes of Liberation Radio automatically as they become available.