Ukraine crisis exposes US, EU collusion | Remembering Chokwe Lumumba
PLUS: International Women's Day and criminal injustice
March 3, 2014
Having trouble playing the audio? Download the audio file here.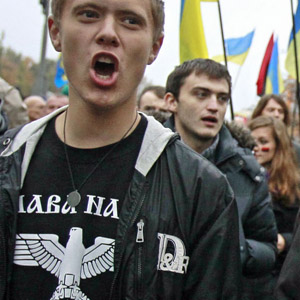 Listen now: Brian Becker of the ANSWER Coalition relates the U.S. and European Union role in the battle that has engulfed the Ukraine, the right-wing forces which have taken power and the importance of this struggle globally. This interview was recorded 48 hours prior to Russia's decision to send troops into southern Ukraine.
Listen now: Eugene Puryear of Liberation News delves into the life of the late Chokwe Lumumba. The lifelong organizer and mayor of Jackson, Miss., leaves a legacy of revolutionary political activity.
Listen now: International Women's Day is almost here, and Kerbie Joseph of WORD (Women Organized to Resist and Defend) recently delivered an address on the impact of the War on Drugs on women of color, poor women and communities across the country.
Questions? Comments? Let us know your thoughts!
---
Subscribe to our podcast – it's free!
Just click above to subscribe for free using your favorite podcatcher! You'll receive new episodes of Liberation Radio automatically as they become available.